Pleno Plus
Split shelves for an unbeatable overview
Just one gentle tug brings all the shelves – even the top one – out at the same time for an unbeatable overview of the unit's entire contents. You know exactly where to find what you want and you do not need to waste time searching for it. All the items stored in the unit are always within easy reach thanks to the split higher shelves: items can be stored on the shelves inside the unit or the shelves in the door.
NO MORE RUMMAGING AROUND!
When the doors are opened, the unit's contents slide into view. Just like in a fridge, you can distribute items across the door shelves and the pull-out: smaller groceries and spice containers in the door shelf, and large pots and dishes on the spacious shelves at the bottom of the pull-out. This enables you to keep track of your groceries and prevent spoilage.
A CLEAR OVERVIEW AND EXCELLENT ACCESS
Since the shelves are shallow, you will never have any trouble reaching the items stored on them – not even the items on the top shelf. The shelves' height can be adjusted to match the height of the packages or containers you wish to store.
JUST ONE SET OF FITTINGS CAN TRANSFORM THE ENTIRE UNIT
Pleno can be used in 600-mm-wide units with hinged doors with or without handles. Even when fully loaded, this smooth-running pull-out is incredibly easy to open. The system can be mounted on the right or left and can easily be retrofitted in any unit with a hinged door.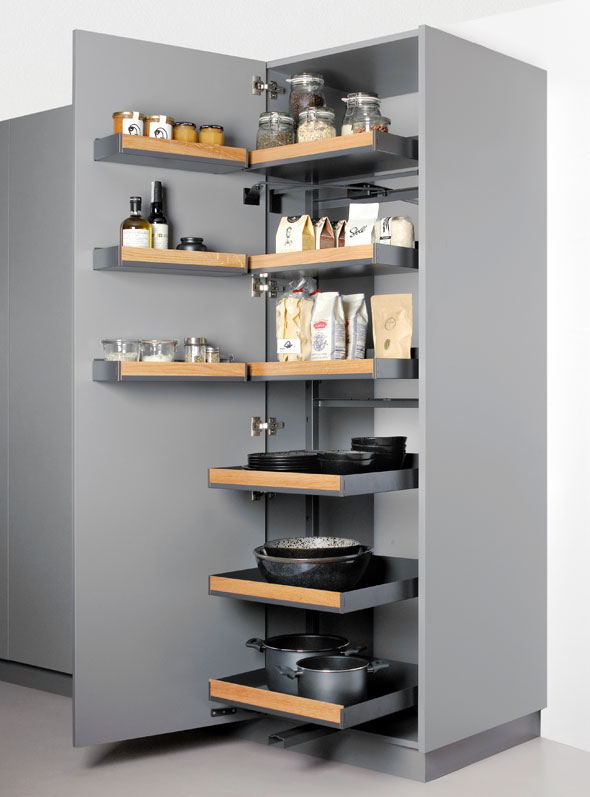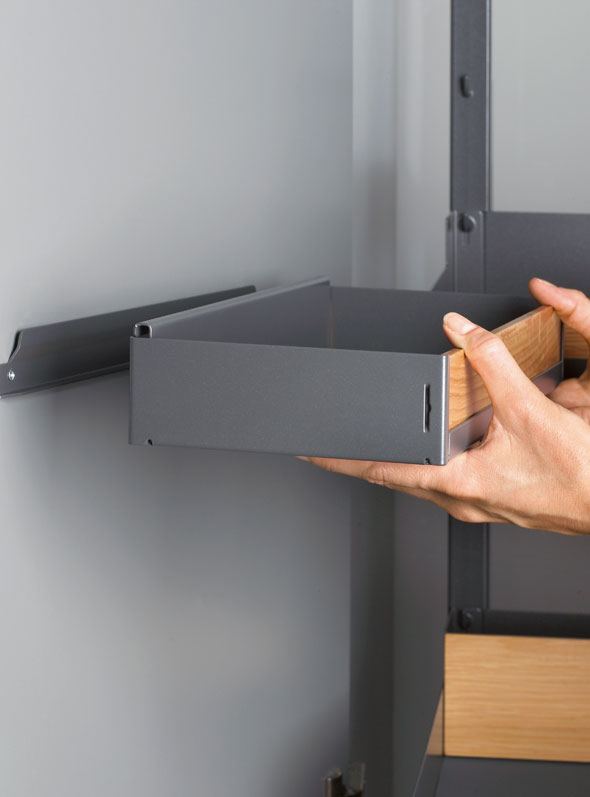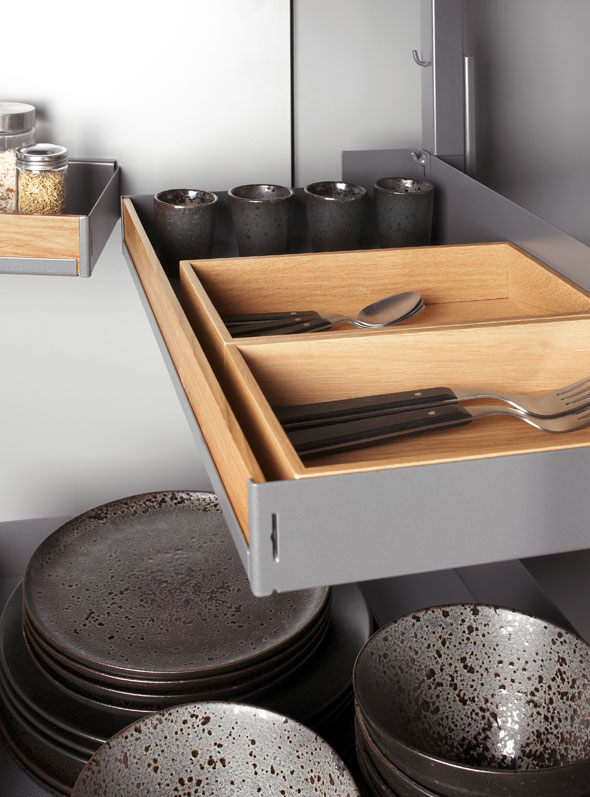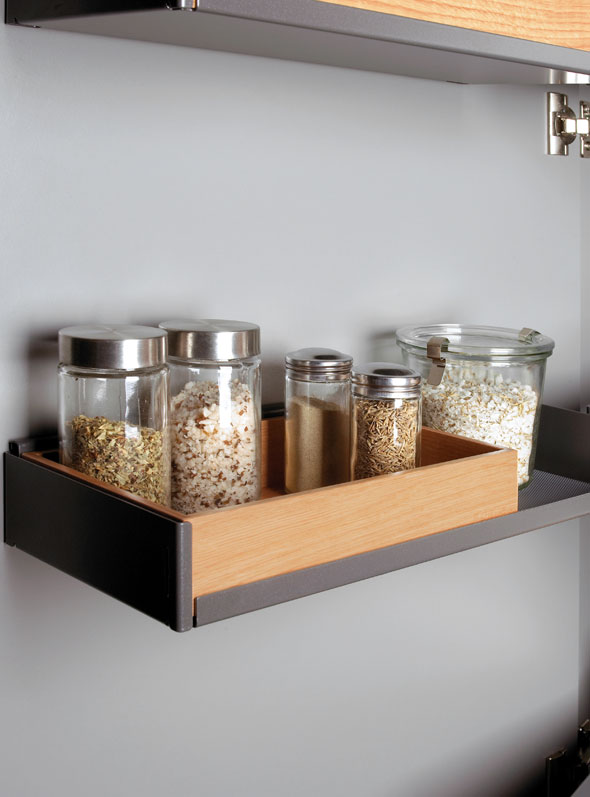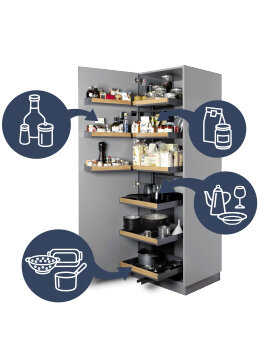 There is plenty of room for everything – groceries, spice jars, bags, large pots and dishes – and one simple movement is all it takes to give you a full overview of the items in the unit.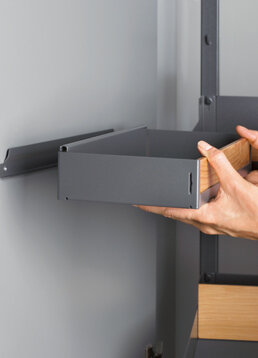 The door shelves are simply clipped into an invisible bracket. They are secured to make sure they cannot be knocked off accidentally.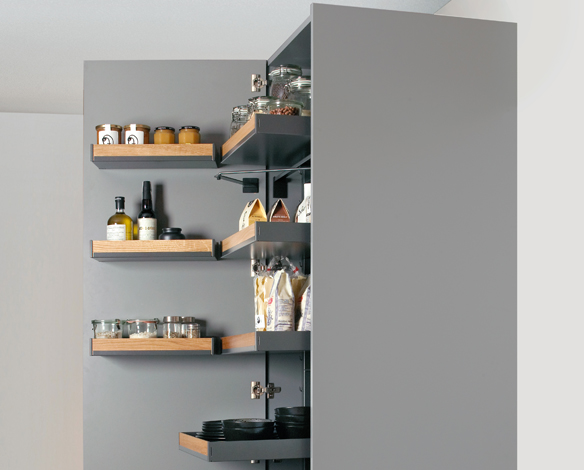 ONE SIMPLE MOVEMENT IS ALL IT TAKES
With just one gentle tug, all the shelves glide out, displaying the unit's entire contents. No other storage solution offers this combination of large shelves lower down, medium-sized shelves higher up and smaller shelves on the door, a layout that guarantees maximum visibility at every level.
BEAUTIFULLY ORGANISED
You can kit out your larder unit with wooden storage boxes, which you can stack and rearrange however you like – you can even add more if you need to!.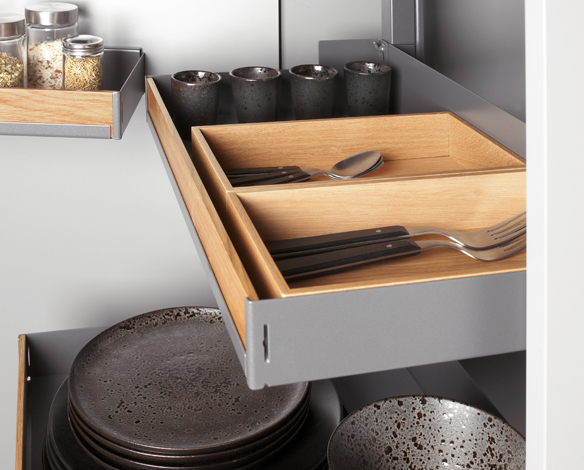 ​
PHOTOS OF THE ARRANGEMENT