AN ORDERED HOME WITH PEKA
Everyone has their own style of living, but everyone needs space. peka's systems help you to make best use of the space you have. Our smart kitchen and furniture fittings bring order to your kitchen units and storage cabinets. From spacious larder units and innovative corner unit solutions to handy pull-out systems and practical dressing room gadgets, peka's interior fittings unlock the full potential of your home's storage space.

Peka products can be installed or retrofitted in kitchens and units made by any manufacturer.
​​
Kitchen
Are you planning a new kitchen? Then plan with Peka. We do everything so that your kitchen not only looks good, but above all facilitates work and makes your everyday life noticeably more comfortable.
More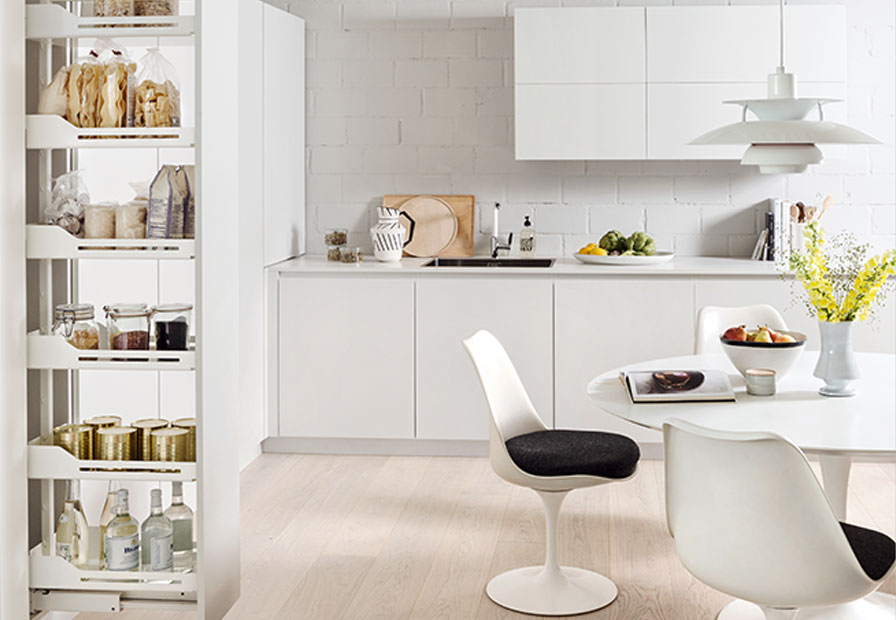 ​​
PECASA
Pecasa means smart living for greater comfort. Create your own customised space in just a few easy steps: a simple, clear and adaptable solution.

Thanks to Pecasa, you can enjoy maximum flexibility with minimum effort. You can attach any combination of shelves, cabinets, desks or clothes rails to the central wall profile and reposition them however you like. Ideal for living areas, home offices, dressing areas, hallways and shops.
More
Smart furniture
You can even add lighting or a TV to your Pecasa system thanks to the cable duct in the side of the wall profile.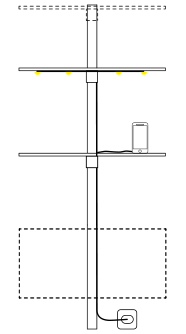 ​
Flexible design
Thanks to its central wall profile, Pecasa is the last word in flexibility: its modular components can be moved into any position at any time, be they table tops, shelves, cabinets, or other items.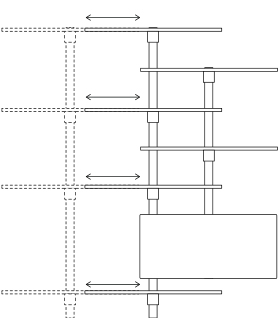 ​
Pecasa consists of a few simple, but highly versatile components that can be combined in an infinite variety of ways.
peka supplies a wall profile with a built-in cableduct, plus shelf supports, unit support brackets and metal shelves. You then arrange them however you like to create your own personalised furniture solution.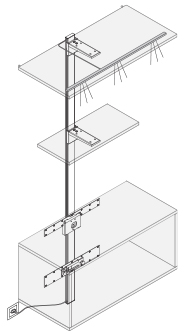 ​​
Housekeeping
New brooms sweep clean, and peka's cleaning cupboard solutions keep them nice and organised! They have plenty of space for other tools too, from buckets to vacuum cleaners.
More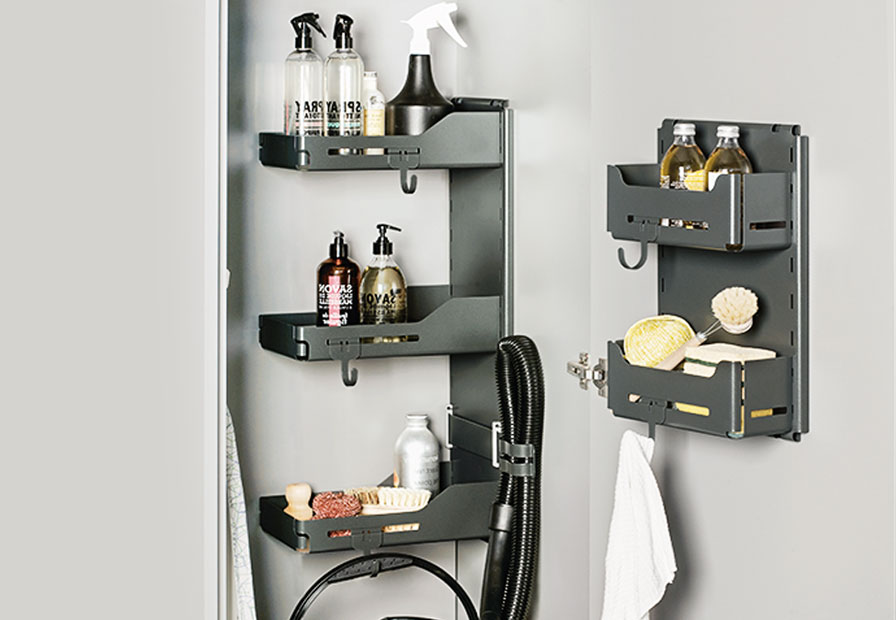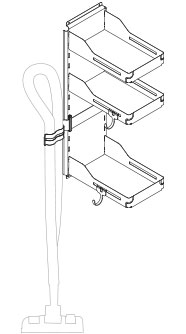 Have you ever wished there was a better place to store your airer, ironing board and cleaning products?
Peka has the answer! We have developed ingenious systems for every cupboard and every application: our shelves, hose holders, hooks and trays help you to use all your space efficiently.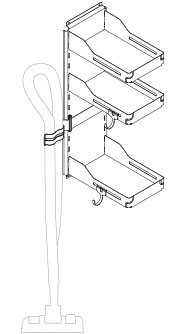 ​
The average waste bin is opened 32 times a day. That sounded like a lot to us – so we developed a waste system that will not cause you hassle every single time you need to use it.
Dealing with bins can be a nuisance. They smell bad, they overflow, and the bags are hard to remove – all of that makes disposing of household waste a real pain. peka's waste systems take all the stress out of household waste management.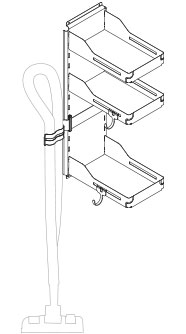 To us at peka, 'housekeeping' means keeping your house organised by using space cleverly.
With our handy pull-out shelves and trays, you can transform any tall cupboard into a practical cleaning cupboard. Whether you are looking to store small items like cleaning products, clothes and sponges or larger items like an ironing board, brooms and a vacuum cleaner, we have the right solution for you.

Our systems store everything you need where you can see it and reach it easily at all times. After all, as they say, organisation is half the battle. Cleaning is the other half.
​​
Dressing room
When planning your dressing room, it is important to include the storage space and ergonomics. Thanks to pull-out shelves, you can see your wardrobe down to the farthest corner.
More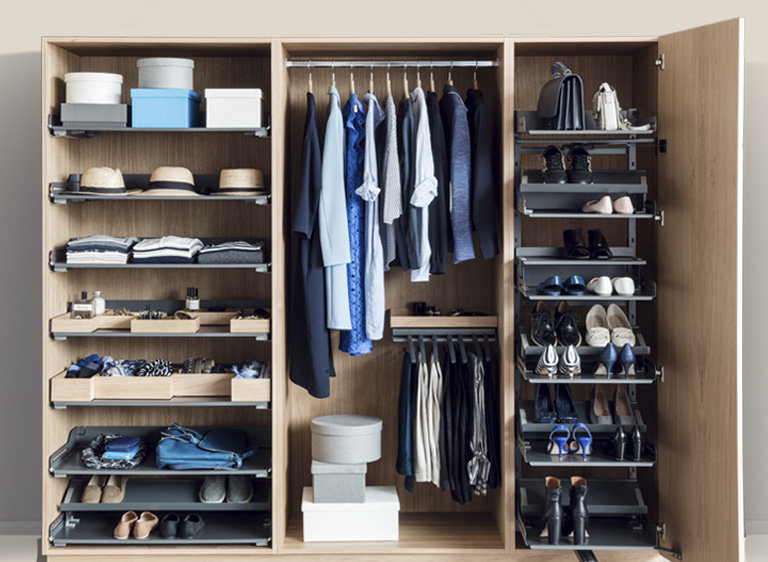 peka's pull-out shelves are available for any.
You can just reach in and grab your favourite T-shirt from the front of the shelf, or pull the shelf right out for easy access to the items stored at the back. The shelves' bases are closed, so fabrics will not catch on them.

​Our pull-out shelves can also be fitted in wardrobes with sliding doors or in doorless units. You can even customise your storage space with wooden boxes, magnetic dividers, separators, shoe racks, trouser racks and more – the sky is the limit!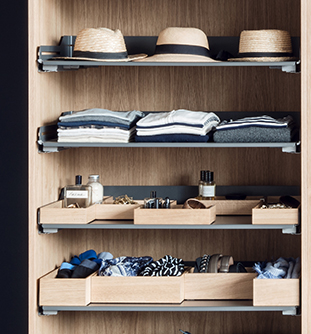 Take out the stirrups, hang up the trousers, hang the stirrups back into the cupboard to save space.
Lina can accommodate up to 15 pairs of pants. The system is mounted sideways and divided it makes still the closet sensible: About the trousers system you put off shirts, on the side there is room for coats and jackets, and store in the storage compartment cufflinks, jewelry and belts.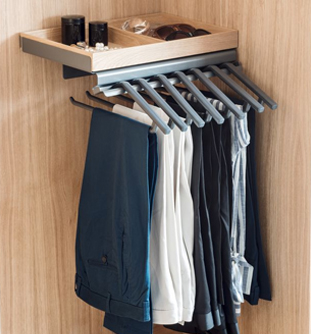 ​
Clothes, shoes, accessories... if you just lay them on a shelf, they are sure to get jumbled up in no time! Our storage solutions, on the other hand, keep everything neat and tidy.
Clothes make the man (or woman, for that matter!). And we make innovative solutions for clothes – our systems do not just keep them looking good, they also present them in an attractive, clear way.