Pleno
Centralised storage for groceries and dishes
The major advantage of centralised food storage is that you know exactly where to find what you want and you do not need to waste time searching for it. An organised food storage system saves you both time and money: it eliminates the need for walking around and, more importantly, cuts out unnecessary duplicate purchases. Today's kitchen larder organisers are highly versatile and can easily be adapted to suit whatever you want to store.
​
Plenty of storage space
When the doors are opened, the unit's contents slide out smoothly. The metal shelves are ideal for storing all kinds of groceries, but also for dishes and pans. The metal shelves can be positioned at any height, so you can adjust them according to the size of the items you want to store.
Access from three sides
Every last inch of storage space can be viewed and accessed from three sides. Shelves with access on both sides even give you a clear view of food items in small or short packages and let you read the labels too, so you can be sure what items you have.
JUST ONE SET OF FITTINGS CAN TRANSFORM THE ENTIRE UNIT
Pleno can be used in units with hinged doors with or without handles, and is available for unit widths of 450 and 600 mm. Even when fully loaded, this smooth-running pull-out is incredibly easy to open.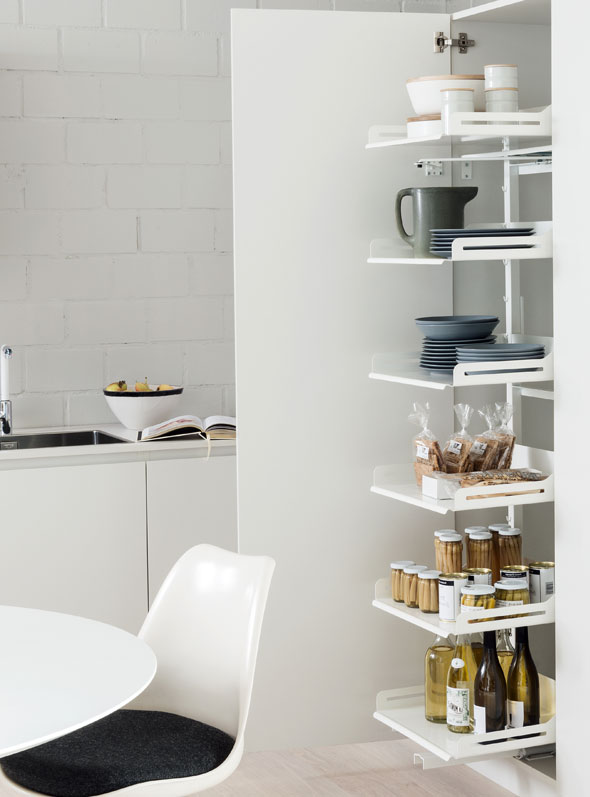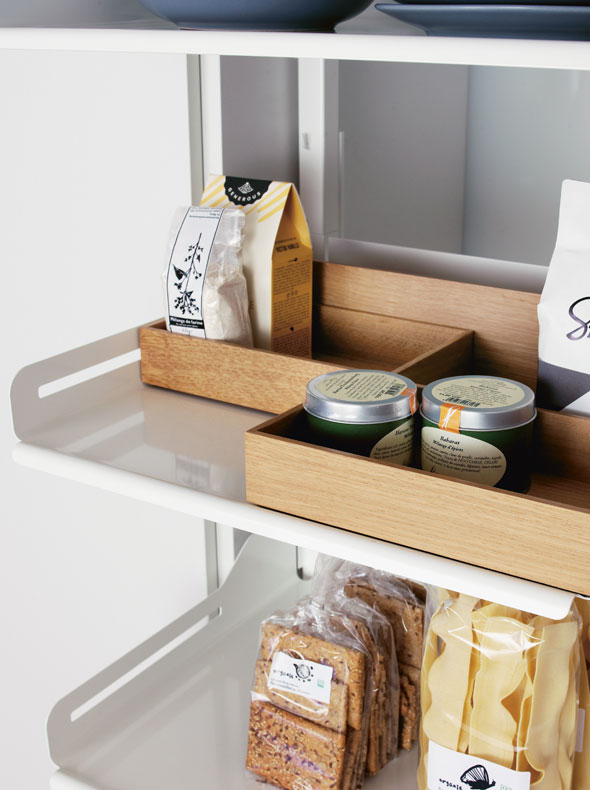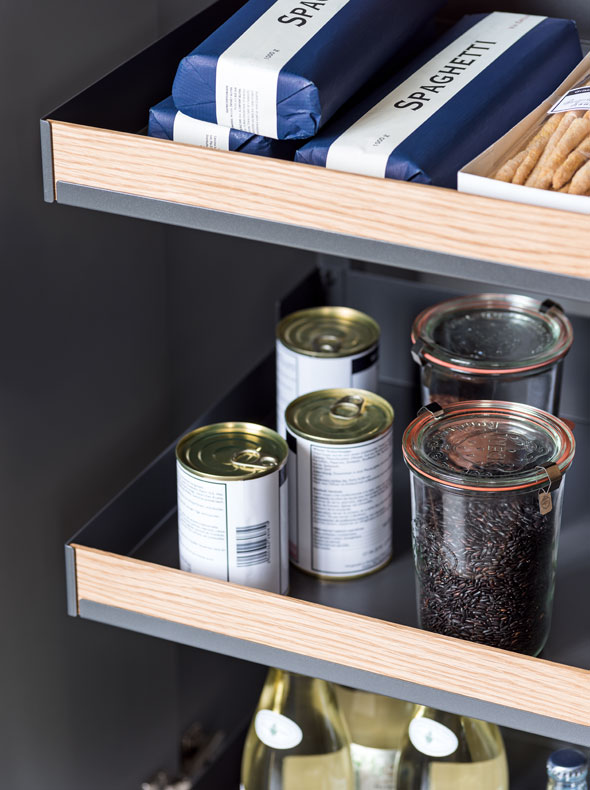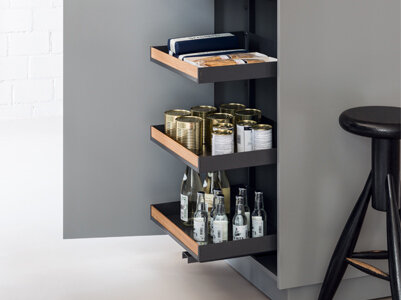 Can be mounted on the left or on the right
The system can be mounted on the right or left and can easily be retrofitted in any unit with a hinged door.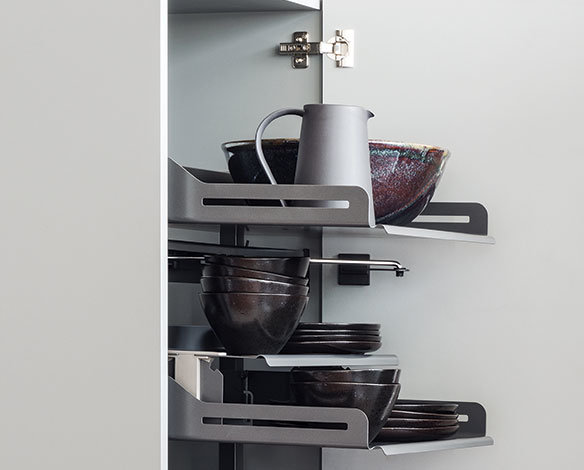 Flexible storage
The larder unit system is perfect for units with standard hinged doors and can be fitted to the right or left side of the door panel. Its spacious shelves offer plenty of room for storing larger items like dishes and pans or table linen and towels, making it an excellent solution for living area and bathroom applications too.
REFINEMENT AND ELEGANCE
Shelves from the Fioro design line are right in step with the latest furniture trends and are the perfect complement to warm colours and wooden front panels. The oiled oak rails look especially attractive when paired with anthracite metal clip-on shelves.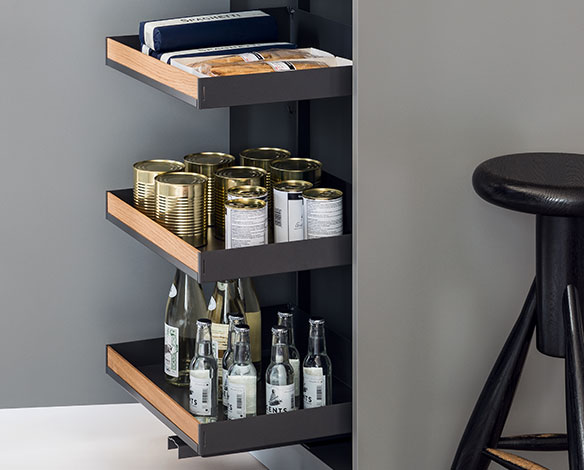 ​
Choose your favourite colour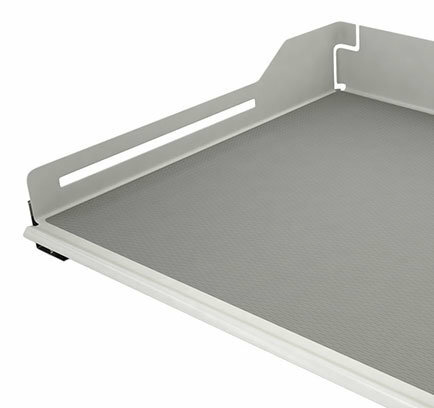 White clip-on shelves made of coated steel with non-slip mat in anthracite colour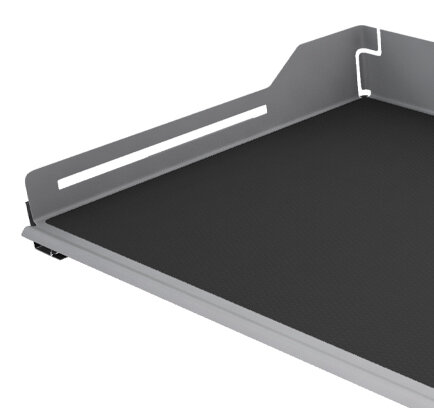 Silver clip-on shelves made of coated steel with non-slip mat in anthracite colour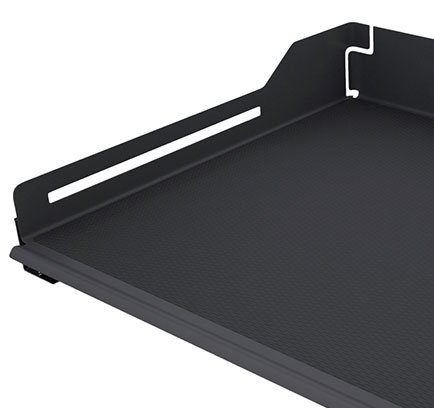 Anthracite clip-on shelves made of coated steel with non-slip mat in anthracite colour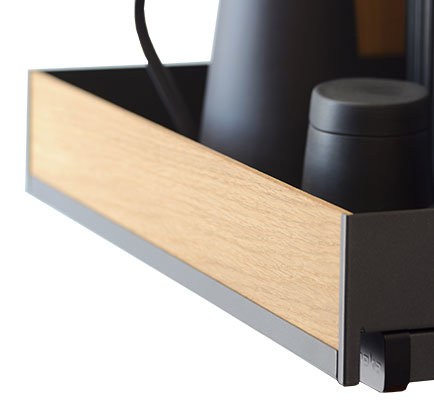 Design line FIORO - Anthracite clip-on shelves made of coated steel with oak rail
​
PHOTOS OF THE ARRANGEMENT